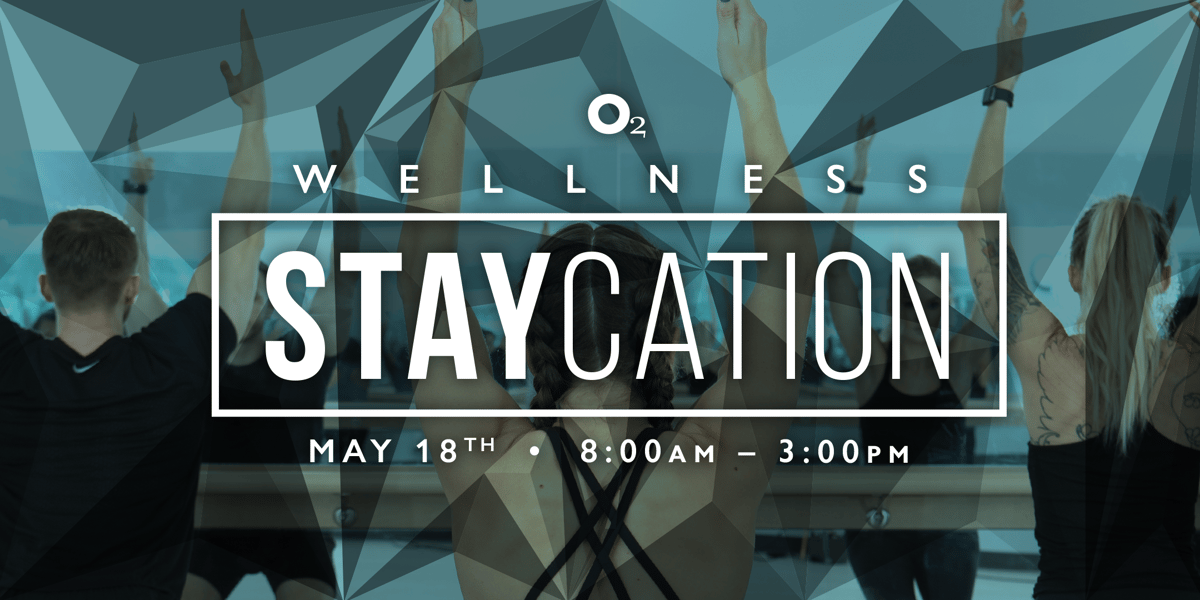 Wellness Staycation
O2 Fitness is hosting a Wellness Staycation on Saturday, May 18, 2019 from 8am–3pm at the new Brier Creek Club. The event will feature a wide variety of classes taught by some of the top instructors in the Triangle, a panel of speakers and a mini-spa in the locker room. Plus, all participants will receive lunch from Happy + Hale and a swag bag.
All-day passes are available now for $45 to the general public and $15 to O2 Fitness members.

If you are interested in participating as a vendor or instructor, please contact Libby Burton.
Classes
Participants will choose their top choices from the classes offered and receive a customized itinerary. Classes will be held in the Group Fitness studio, the Mind~Body studio and on the functional training turf. Formats that will be offered include:
m'bala - Strength Yoga
Flow Yoga
Restorative Yoga
HIIT
Pbx pilates and barre
Hip Hop Dance
Martial Arts
Sound Bath
core strength
Speaker Panels
Topics for the panels and confirmed speakers include:
Self Worth and Motivation
Emily Wallace - Midtown Yoga Raleigh
Natalie Eichner - Mettacool
Jessica Geist - Transformational Health Coach
Burn Out
Dr. Nicole Cranley - The Doctorette
Carrington Jackson - Yoga Instructor
Mary Clark - Acupuncturist & Massage Therapist
Dr. Mitchell - Healing Center and Auyuveda Practitioner
recovery
Jennifer Hoverstead - Breast Cancer Survivor and Wellness Rockstar
Alysia Stewart - O2 Fitness Personal Trainer and General Manager
Katherine Andrew - Registered Dietician
Dr. Pete Friesen - Physical Therapist and Strength & Conditioning Coach for Team USA Hockey
Mini-Spa
The locker room will be transformed into a mini-spa featuring:
Essential Oil blends
5-minute face masks and recovery cream
Braid Bar
CBD Sampling
Needle-less Acupuncture
mini massages